Gender and Music: Gender Roles and the Music Industry
Keywords:
Gender Inequalities, Gender roles, Music Industry
Abstract
The complex relationship between gender and the music industry, especially in gender roles, spans a wide range of areas from music production to theatre to career opportunities. Historical context, current and research on its breadth continues to shed light on gender inequalities that continue to plague fieldwork.
In this article, gender representation in music plays a significant part, emphasizing how widespread gender preconceptions are and how they manifest in both art and daily life. Perceptions of musical aptitude and career choices are significantly influenced by social norms and expectations, gender roles in music, and gender roles in general.
Given these difficulties, it is crucial to discuss and contest the gender roles that persist in the music business. It's essential that workable to create fair and inclusive surroundings that supports every body's development and achievement, regardless of gender. This article acknowledges the importance of recognizing and actively addressing key issues such as gender structure, representation, the gender pays gap, the leadership gap, and the overall need for greater inclusion. It also highlights the importance of these areas for further research and steps that can be used for improvement.
A more thorough investigation of gender's place in the workplace and its effects on various facets of the industry is warranted given the intricate relationship between gender and the music industry. The music industry can foster a climate that empowers and supports all musicians, regardless of gender, via recognising and addressing gender inequities, fostering inclusivity, and taking proactive actions in the direction of extra gender equality.
References
Adams, T. M., & Fuller, D. B. (2006). The words have changed but the ideology remains the same: Misogynistic lyrics in rap music. Journal of Black Studies, 36(6), 938–957. http://www.jstor.org/stable/40034353
Bayton, M. (1998). Frock rock: Women performing popular music. Oxford University Press.
Bowers, J., & Tick, J. (1987). Women making music: The western art tradition, 1150-1950. University of Illinois Press.
Citron, M. J. (1993). Gender and the musical canon. Cambridge University Press.
Duby, G., & Perrot, M. (1994). A history of women in the west. Belknap Press.
Forbes (2018). The world's 30 top-earning musicians 2018. Forbes. https://www.forbes.com/pictures/5bd9f64a31358e5b433522df/30-rolling-stones-39-mill/?sh=528f3d140371
Grandy, G., & Mavin, S. (2012). Occupational image, organizational image and identity in dirty work: Intersections of organizational efforts and media accounts. Organization, 19(6), 765-786. https://doi.org/10.1177/1350508411422582
Hesmondhalgh, D. (2013). Why music matters. John Wiley & Sons.
Leonard, M. (2007). Gender in the music industry: Rock, discourse and girl power. Ashgate Publishing.
Marcus G. F. (2012). Musicality: Instinct or acquired skill?. Topics in cognitive science, 4(4), 498–512. https://doi.org/10.1111/j.1756-8765.2012.01220.x
McClary, S. (1991). Feminine endings: music, gender, and sexuality. University of Minnesota Press.
Nehring, N. R. (1997). Popular music, gender, and postmodernism: Anger is an energy. Sage Publications.
Pendle, K. (2001). Women and music: A history. Indiana University Press.
Reddington, S. (2007). The lost women of rock music: Female musicians of the punk era. Ashgate Publishing.
Smith, M. (2009). Gender, pay and work satisfaction at a UK university. Gender, Work and Organization, 16, 621-641. https://doi.org/10.1111/j.1468-0432.2008.00403.x
Swarr, A. L., & Nagar, R. (2010). Critical transnational feminist praxis. Suny Press.
Wajcman, J. (1998). Managing like a man: Women and men in corporate management. Polity Press.
Walser, R. (1993). Professing censorship: Academic attacks on heavy metal. Journal of Popular Music Studies, 5(1), 68–78. https://doi.org/10.1111/J.1533-1598.1993.TB00083.X
Ward, M., Hansbrough, E., & Walker, E. (2005). Contributions of music video exposure to black adolescents' gender and sexual schemas. Journal of Adolescent Research, 20, 143-166. http://dx.doi.org/10.1177/0743558404271135
Weitzer, R., & Kubrin, C. E. (2009). Misogyny in rap music: A content analysis of prevalence and meanings. Men and Masculinities, 12(1), 3-29.
Whiteley, S. (2000). Women and popular music: Sexuality, identity and subjectivity. Routledge
Wolfe, P. (2020). Women in the studio: Creativity, control, and gender in popular music sound production. Routledge.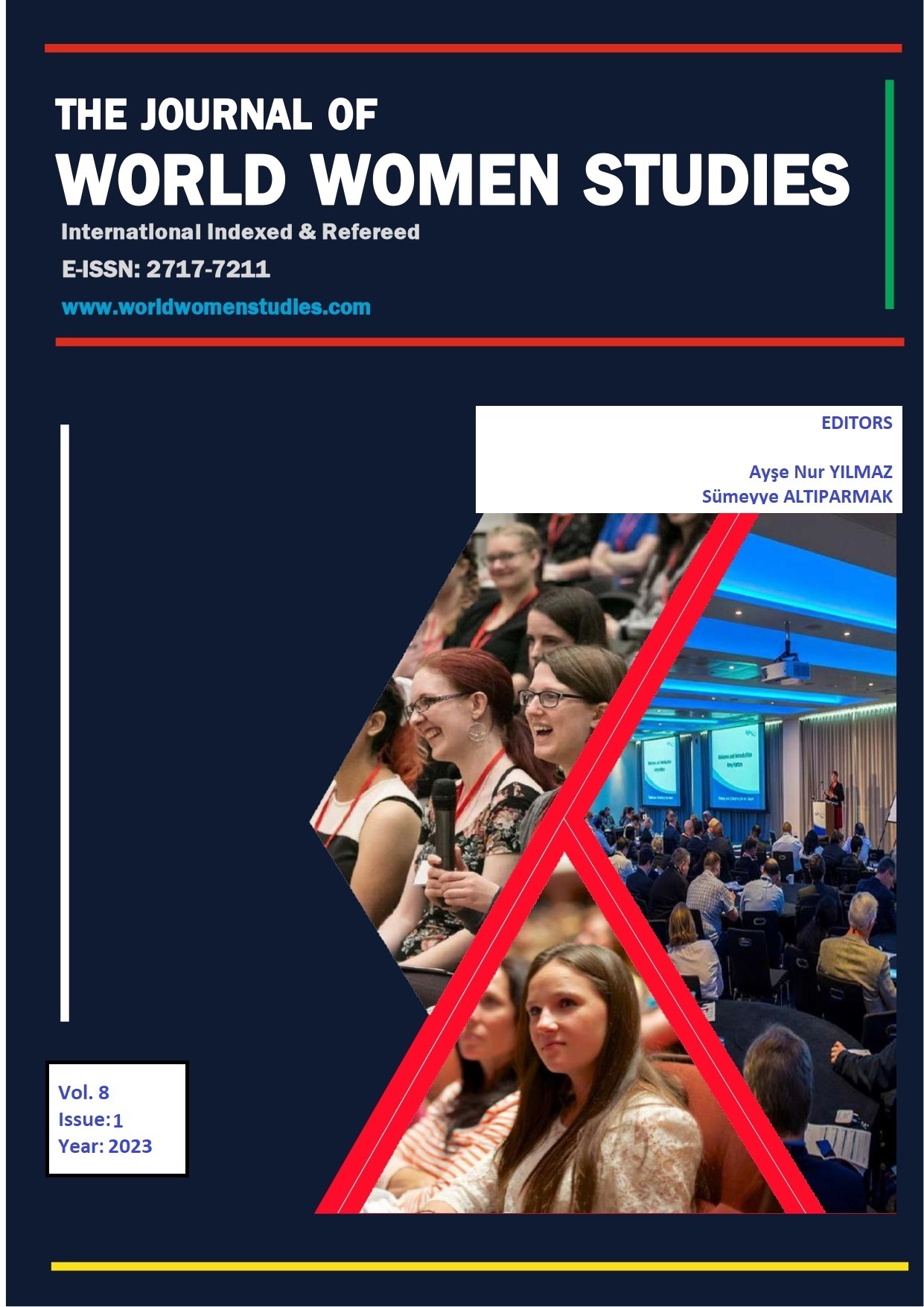 Downloads
How to Cite
TABAK, C. (2023). Gender and Music: Gender Roles and the Music Industry. WORLD WOMEN STUDIES JOURNAL, 8(1), 49–58. https://doi.org/10.5281/zenodo.8154427
License
Copyright (c) 2023 WORLD WOMEN STUDIES JOURNAL
This work is licensed under a Creative Commons Attribution-NonCommercial-NoDerivatives 4.0 International License.