The Effect of Gender Roles on Women's Health and the Role of Midwives
Keywords:
Midwife, Women, Health, Gender
Abstract
The concepts of gender and gender are often confused with each other. While the concept of gender defines the genetic, physiological and biological characteristics of the person as a woman or a man, the concept of gender defines the roles, duties and responsibilities given by the society, how the society sees and perceives the individual and what are their expectations. From the past to the present, it is seen that men are valued more than women in many areas. It is noteworthy that these inequalities are more in areas such as working life, social life, marriage and family life. It is seen that women are mostly affected negatively from the responsibilities that gender roles impose on women and men. The factors that have an impact on the development of attitudes towards gender role; family environment, education level of parents and working status of mother, friends, school and mass media. The most important area where gender discrimination is seen in women's health is reproductive health services. Today, safe motherhood, gynecological problems, infertility, family planning, etc. They may be deficient in benefiting from reproductive health services. The aim of this review is to draw attention to the effects of gender roles on women's health and to offer solutions and to make suggestions about the roles and responsibilities of midwives in protecting and improving the health of the society in the light of these solutions.
References
Akın, A. (2007) Toplumsal Cinsiyet Ayrımcılığı ve Sağlık, Toplum Hekimliği Bülteni, 26 (2), 1-9.
Akın A., & Demirel S. (2003). Toplumsal Cinsiyet Kavramı ve Sağlığa Etkileri. C.Ü.Tıp Fakültesi Dergisi, Özel eki; 25(4):73-82.
Çoşkun A., & Özdilek R. (2012). Toplumsal Cinsiyet Eşitsizliği: Sağlığa Yansıması ve Kadın Sağlığı Hemşiresinin Rolü, Hemşirelikte Eğitim ve Araştırma Dergisi 2012;9 (3): 30-39.
Eryılmaz, S. (2020). Toplumsal Cinsiyet Rolü ve Kadın Sağlığı. Kırşehir Ahi Evran Üniversitesi Sağlık Bilimleri Dergisi, 1(1), 5-13.
Sezgin D. (2015). Toplumsal Cinsiyet Perspektifinde Sağlık ve Tıbbileştirme, Sosyoloji Araştırmaları Dergisi / Journal of SociologicalResearch, Cilt / Volume 18 Sayı / Number 1 (Nisan/April 2015) : (153-186).
Şimşek H. Toplumsal Cinsiyet Eşitsizliğinin Kadın Üreme Sağlığına Etkisi: Türkiye Örneği. DEÜ Tıp Fakültesi Dergisi 2011, 25(2): 119 – 126
Terzioğlu, F., Taşkın, L. (2008). Kadının Toplumsal Cinsiyet Rolünün Liderlik Davranışlarına ve Hemşirelik Mesleğine Yansımaları. C. Ü. Hemşirelik Yüksekokulu Dergisi. 12 (2),62-67.
Zeybekoğlu Dündar, Ö. (2102). Toplumsal Cinsiyet Rollerininin Televizyon Reklamlarına Yansıması. ETHOS, Felsefe ve Toplumsal Bilimlerde Diyaloglar, 5 (1), 121- 136.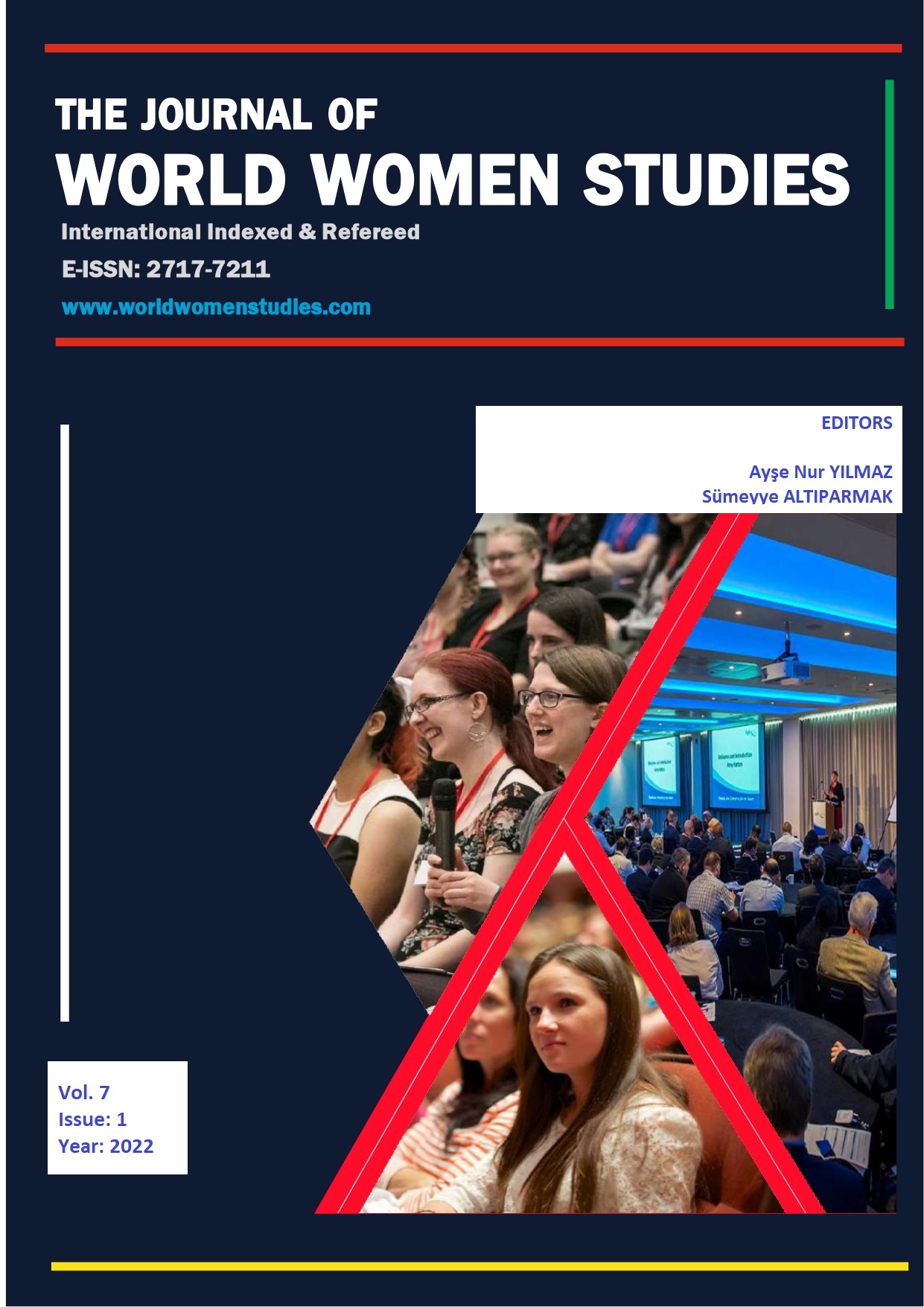 Downloads
How to Cite
SÖKMEN, R. (2022). The Effect of Gender Roles on Women's Health and the Role of Midwives. WORLD WOMEN STUDIES JOURNAL, 7(1), 123–127. https://doi.org/10.5281/zenodo.7460981
License
Copyright (c) 2022 WORLD WOMEN STUDIES JOURNAL
This work is licensed under a Creative Commons Attribution-NonCommercial-NoDerivatives 4.0 International License.