Spotlights of Turkish Foreigners - Motherhood in an Unknown Land: A Case Study in The Jezero Maternity Hospital
Keywords:
Birth, Maternity, Migrant women, Motherhood, Obstetric violence, Turkish foreign women
Abstract
This academic article addresses a significant gap in the literature on migration and health within the context of Bosnia and Herzegovina (FBiH), focusing on Turkish women with legal migrant status who underwent the maternity process at Jezero Maternity Hospital in Sarajevo. The study aims to explore the memories and experiences of these Turkish women regarding the concept of obstetric violence, particularly their encounters with socially and culturally different attitudes towards childbirth experiences. Utilizing a case study approach, seven Turkish women who volunteered to share their childbirth experiences were selected from one of the leading maternity hospitals in Sarajevo Canton. The findings were categorized into four main themes: inadequate information, lack of autonomy in childbirth decisions, subpar pain management resulting in excruciating pain, a deficiency of trust and lack of security leading to the attitudes of hospital staff perceived as unacceptable and ignored. Although the issue of obstetric violence is intricate and multifaceted, this small-scale study has shed light on crucial aspects related to securing women's right to midwifery and promoting respectful and supportive care for expectant mothers at the local level in FBiH. This research contributes valuable insights to the existing literature and highlights the significance of culturally sensitive approaches to improve maternal healthcare experiences for migrant women in the region.
References
Almeida, L. M., Casanova, C., Caldas, J., Ayres-de-Campos, D., & Dias, S. (2014). Migrant women's perceptions of healthcare during pregnancy and early motherhood: Addressing the social determinants of health. Journal of Immigrant and Minority Health, 16(4), 719–723. DOI: 10.1007/s10903-013-9834-4
Almeida, L. M., Costa-Santos, C., Caldas, J. P., Dias, S., & Ayres-de-Campos, D. (2016). The impact of migration on women's mental health in the postpartum period. Revista de Saude Publica, 50, 35. doi: 10.1590/S1518-8787.2016050005617
Annborn, A., & Finnbogadóttir, H. R. (2021, November 24). Obstetric violence: A qualitative interview study. Midwifery, 103212. DOI: 10.1016/j.midw.2021.103212
Aziato, L., Acheampong, A. K., & Umoar, K. L. (2017). Labour pain experiences and perceptions: A qualitative study among post-partum women in Ghana. BMC Pregnancy and Childbirth, 17(1), 73. DOI: 10.1186/s12884-017-1248-1
Balaam, M.-C., Akerjordet, K., Lyberg, A., Kaiser, B., Schoening, E., Fredriksen, A.-M., Ensel, A., Gouni, O., & Severinsson, E. (2013). A qualitative review of migrant women's perceptions of their needs and experiences related to pregnancy and childbirth. Journal of Advanced Nursing, 69(9), 1919–1930. DOI: 10.1111/jan.12139
Bharj, K., & Salway, S. (2008). Addressing ethnic inequalities in maternity service experiences and outcomes: Responding to women's needs and preferences. A Race Equality Better Health Briefing Paper No. 11. London, UK: Race Equality Foundation.
Creswell, J. W., & Creswell, J. D. (2017). Research design: Qualitative, quantitative, and mixed methods approaches. Sage publications.
Crotty, M. (1998). The foundations of social research: Meaning and perspective in the research process. Sage.
De Souza, R. (2004). Motherhood, migration and methodology: Giving voice to the "other." The Qualitative Report, 9(3), 463–482.
De Souza, R. (2014). One woman's empowerment is another's oppression: Korean migrant mothers on giving birth in Aotearoa New Zealand. Journal of Transcultural Nursing, 25(4), 348–356.
Denzin, N. K., & Lincoln, Y. S. (Eds.). (2011). The Sage handbook of qualitative research. Sage.
Diaz-Tello, F. (2016). Invisible wounds: Obstetric violence in the United States. Reproductive Health Matters, 24(47), 56-64.
Fernandes, A., & Miguel, J. P. (2009). Health and migration in the European Union: Better health for all in an inclusive society. Lisboa: Instituto Nacional de Saúde Doutor Ricardo Jorge.
Firdous, T., Darwin, Z., & Hassan, S. M. (2020). Muslim women's experiences of maternity services in the UK: Qualitative systematic review and thematic synthesis. BMC Pregnancy and Childbirth, 20(1), 1–10. DOI: 10.1186/s12884-020-2811-8
Gurman, T. A., & Becker, D. (2008). Factors affecting Latina immigrants' perceptions of maternal health care: Findings from a qualitative study. Health Care for Women International, 29(5), 507–526. DOI: 10.1080/07399330801949608
Higginbottom, G., Reime, B., Bharj, K., Chowbey, P., Ertan, K., Foster-Boucher, C., Friedrich, J., Gerrish, K., Kentenich, H., & Mumtaz, Z. (2013). Migration and maternity: Insights of context, health policy, and research evidence on experiences and outcomes from a three-country preliminary study across Germany, Canada, and the United Kingdom. Health Care for Women International, 34(11), 936–965.
Hoban, E., & Liamputtong, P. (2013). Cambodian migrant women's postpartum experiences in Victoria, Australia. Midwifery, 29(7), 772–778. https://doi.org/10.1016/j.midw.2012.06.021
Kumar, R. (2019). Research methodology: A step-by-step guide for beginners. Sage Publications Limited.
Landale, N. S., & Oropesa, R. S. (2001). Migration, social support and perinatal health: An origin-destination analysis of Puerto Rican women. Journal of Health and Social Behavior, 166–183. https://doi.org/10.2307/3090176
Lansakara, N., Brown, S. J., & Gartland, D. (2010). Birth outcomes, postpartum health and primary care contacts of immigrant mothers in an Australian nulliparous pregnancy cohort study. Maternal and Child Health Journal, 14(5), 807–816. DOI: 10.1007/s10995-009-0514-x
McLeish, J., & Redshaw, M. (2019). Maternity experiences of mothers with multiple disadvantages in England: A qualitative study. Women and Birth, 32(2), 178–184. DOI: 10.1016/j.wombi.2018.05.009
Munhall, P. L. (1994). Revisioning phenomenology: Nursing and health science research. Jones and Bartlett Learning.
Orpin, J., Puthussery, S., & Burden, B. (2019). Healthcare providers' perspectives of disrespect and abuse in maternity care facilities in Nigeria: A qualitative study. International Journal of Public Health, 64, 1291–1299.
Polt, R. (2013). Heidegger: An introduction. Routledge. https://doi.org/10.4324/9781315889467
Renzaho, A. M., & Oldroyd, J. C. (2014). Closing the gap in maternal and child health: A qualitative study examining health needs of migrant mothers in Dandenong, Victoria, Australia. Maternal and Child Health Journal, 18(6), 1391–1402. DOI: 10.1007/s10995-013-1378-7
Robertson, E. K. (2015). "To be taken seriously": Women's reflections on how migration and resettlement experiences influence their healthcare needs during childbearing in Sweden. Sexual and Reproductive Healthcare, 6(2), 59–65. DOI: 10.1016/j.srhc.2014.09.002
Shetty, R. K., Samant, P. Y., & Honavar, P. U. (2021). Obstetric violence: A health system study. International Journal of Reproduction, Contraception, Obstetrics, and Gynecology, 10(4), 1551-1560. DOI: 10.18203/2320-1770.ijrcog20211136
Skoog, M., Berggren, V., & Hallström, I. K. (2019). 'Happy that someone cared'—Non-native-speaking immigrant mothers' experiences of participating in screening for postpartum depression in the Swedish child health services. Journal of Child Health Care, 23(1), 118–130. DOI: 10.1177/13674935187783
Topcu, E. (2018). Suriyelilere Yardım Kapsamında Kriz Yönetimi ve Kadın Liderliği Ankara Örneği. Middle East Journal of Refugee Studies, 3(1), 39–52.
Topcu, E., & Kurtulmus, S. (2016). Solidarity with Syrian Immigrants with the Power of Islamic Beliefs and Volunteerism. Turkish Migration 2016 Selected Papers, 139.
World Health Organization. (2014, September 3). WHO. WHO; World Health Organization. http://www.who.int/reproductivehealth/topics/maternal_perinatal/statement-childbirth/en/
Yelland, J., Riggs, E., Small, R., & Brown, S. (2015). Maternity services are not meeting the needs of immigrant women of non-English speaking background: Results of two consecutive Australian population-based studies. Midwifery, 31(7), 664–670. DOI: 10.1016/j.midw.2015.03.001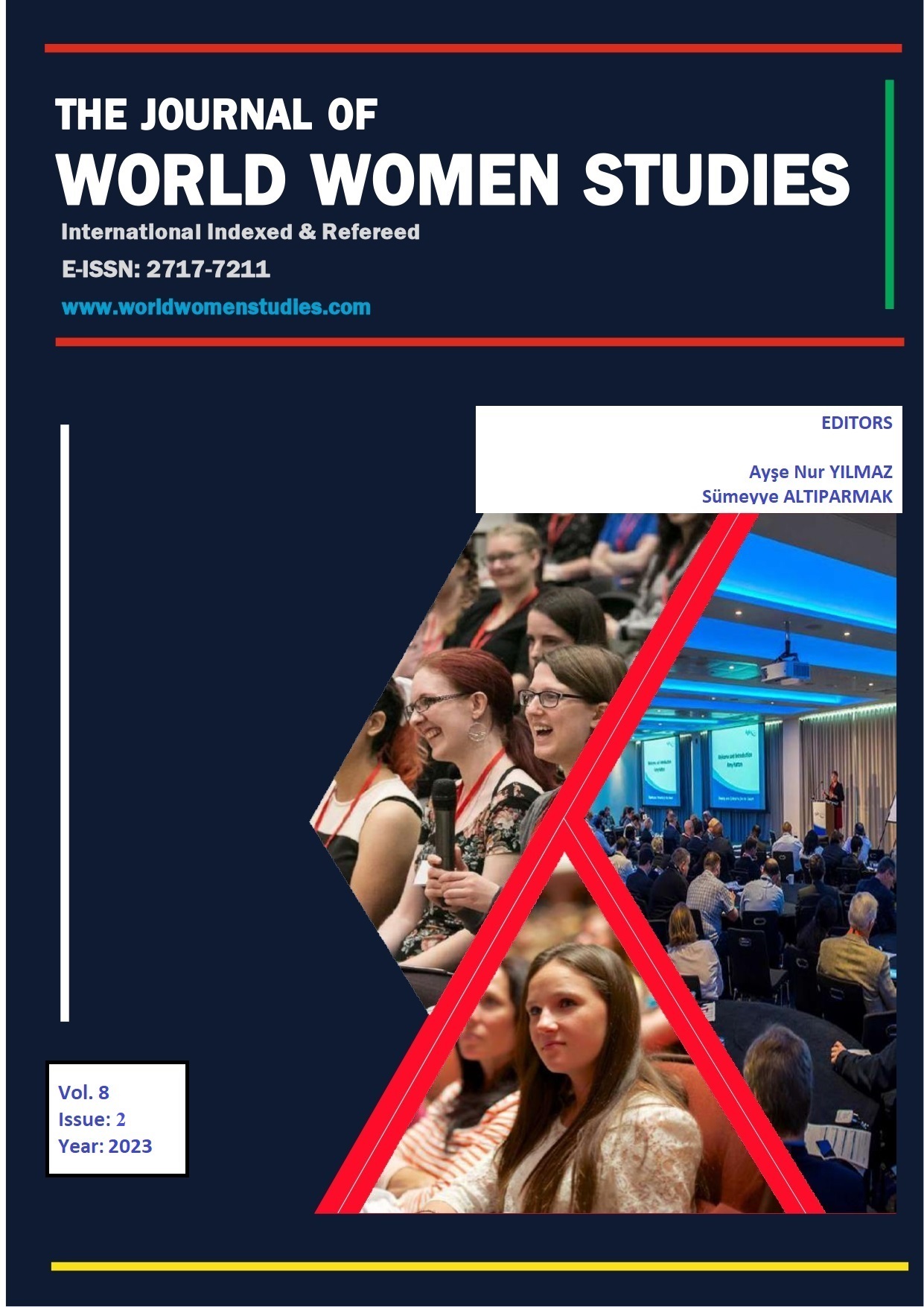 Downloads
How to Cite
TOPÇU, E., & FIŠO, S. (2023). Spotlights of Turkish Foreigners - Motherhood in an Unknown Land: A Case Study in The Jezero Maternity Hospital. WORLD WOMEN STUDIES JOURNAL, 8(2), 265–275. https://doi.org/10.5281/zenodo.8431042
License
Copyright (c) 2023 WORLD WOMEN STUDIES JOURNAL
This work is licensed under a Creative Commons Attribution-NonCommercial-NoDerivatives 4.0 International License.