The Role of Healthy and Effective Communication Skills in the Development of Pre-School Children
Keywords:
Communication Skills, Preschool Student, Internet, Social Skills
Abstract
The time period that preschool children spend with their peers is very important. The way of communication they establish at such moments shows not only the developmental level of the students, but also what kind of family environment they come from. It is known that the effects of the events that preschool children are exposed to in the critical period on their communication skills. However, in this period, the extent to which the sensitivity of the parents contributes to the progress and development of the child shows itself when the preschool student comes together with his child's peers. The preschool student, who is in communication with his peers, dreams of a communication process where he can express himself easily in order to support his self-confidence. However, the student, whose dream does not come true, starts to have problems in anger control when he has difficulty in expressing himself. It has been understood that the development of children who have healthy and effective communication skills in such processes is high. In this study, it was determined that healthy and effective communication skills are very important on preschool children. In addition, in the study, it was observed that the children who were among their peers had high behavioral and cognitive abilities.
References
Açıkgöz, M. H. (2005). Etkili İletişim. Ankara: Elis Yayınları.
Ahmadi, S., Keshavarzi, A., Foroutan, M. (2011). The Application of Information and Communication Technologies (ICT) and its Relationship with Improvement in Teaching and Learning. Procedia-Social and Behavioral Sciences, 28, 475-480.
Bahreini, K., Nadolski, R., Westera, W. (2017). Communication Skills Training Exploiting Multimodal Emotion Recognition. Interactive Learning Environments, 25 (8), 1065-1082.
Cant, P. R., Aroni, A., R. (2008). Exploring Dietitians' Verbal and Nonverbal Communication Skills for Effective Dietitian–Patient Communication. Journal of Human Nutrition and Dietetics, 21, 502-511.
Chapman, S. T., Snell, E. M. (2011). Promoting Turn-Taking Skills in Preschool Children With Disabilities: The Effects of A Peer-Based Social Communication Intervention. Early Childhood Research Quarterly, 26, 303-319.
Demiray, U. (2008). Etkili İletişim. Ankara: Pegem Akademi.
Deniz, E., Francis, G., Torgerson, C., Toseeb, U. (2022). Parent-Mediated Play-Based Interventions to Improve Social Communication and Language Skills of Preschool Autistic Children: A Systematic Review and Meta-Analysis Protocol. Plos One, 17 (8), 1-14.
Dunbar, N. E., Brooks, C. F., Miller, T. K. (2006). Oral Communication Skills in Higher Education: Using a Performance-Based Evaluation Rubric to Assess Communication Skills. Innovative Higher Education, 31 (2), 115-128.
Duta, N., Panisoara, G., Panisoara, I. (2015). The Effective Communication in Teaching. Diagnostic study regarding the academic learning motivation to students. 5th World Conference on Learning, Teaching and Educational Leadership, WCLTA 2014, Procedia-Social and Behavioral Sciences, 186, 1007-1012.
Enache, R., Crişan, A. (201). Communication, Networking and Personal Development Skills Trained During the Educational Process. Procedia-Social and Behavioral Sciences, 159, 524-528.
Fabes, A. R., Eisenberg, N., Jones, S., Smith, M., Guthrie, I., Poulin, R., … Friedman, J. (1999). Regulation, Emotionality, and Preschoolers' Socially Competent Peer Interactions. Child Development, March, 70 (2), 432-442.
Feyman, N. (2006). Okul Öncesi Eğitim Kurumlarında Kalitenin Çocukların Gelişim Alanları Üzerine Etkisinin İncelenmesi. Yüksek Lisans Tezi, Hacettepe Üniversitesi, Sosyal Bilimler Enstitüsü, Ankara, Türkiye.
Galejs, I., Dhawan, G., King, A. (1983). Popularity And Communication Skills Of Preschool Children. The Journal of Psychology, 115, 89-95.
Grover, L. R., Nangle, W. D., Buffie, M., Andrews, A. L. (2020). Defining Social Skills (Chapter 1). Social Skills Across the Life Span. 3-24.
Hsu, C. H. (2015). Play During Infancy and Early Childhood: Cultural Similarities and Variations. International Encyclopedia of the Social & Behavioral Sciences, 2 (18), 218-225.
Jafari, A., Alami, A., Charoghchian, E., Noghabi, A. D., Nejatian, M. (2021). The Impact of Effective Communication Skills Training On The Status of Marital Burnout Among Married Women. BMC Women's Health, 21, 1-10.
Jelic, M., Nenejic, C. S. (2019). Influences of Preschool On The Development Of Self-Control İn Preschool Children in Montenegro. South African Journal of Education, 39, 1-9.
Karoğlu, H., Ünüvar, P. (2017). Okul Öncesi Dönem Çocuklarının Gelişim Özellikleri ve Sosyal Beceri Düzeyleri. Mehmet Akif Ersoy Üniversitesi Eğitim Fakültesi Dergisi, 43, 231-254.
Kingery, N. J., Erdley, A. C., Scarpulla, E. (2020). Devoloping Social Skills (Chapter 2). Social Skills Across the Life Span. 25-45.
McDaniel, J., Woynaroski, T., Keceli-Kaysili, B., Watson, L. R. Yoder, P. (2019). Vocal Communication With Canonical Syllables Predicts Later Expressive Language Skills in Preschool-Aged Children With Autism Spectrum Disorder. Procedia-Social and Behavioral Sciences, 62, 3826-3833.
Mısırlı, İ. (2013). Genel ve Teknik İletişim Kavramlar, İlkeler, Uygulamalar. Ankara: Detay Yayıncılık.
Miller, T. A., DiMatteo, R. M. (2015). Communication. Psychology and Geriatrics. University of California Riverside, Riverside, California, USA.
Raikes, A., Koziol, N., Janus, M., Platas, L., Weatherholt, T., Smeby, A., Sayre, R. (2019). Examination of school readiness constructs in Tanzania: Psychometric evaluation of the MELQO scales. Journal of Applied Developmental Psychology, 62, 122-134.
Smith, E. (2010). Vocational Education and Training-Teaching and Learning. Employability Skills. International Encyclopedia of Education (Third Edition), University of Ballarat, VIC, Australia.
Taleb, Z. (2012). Information and Communication Technology Skills Ranking in Secondary School Curriculum. International Conference on Education and Educational Psychology (ICEEPSY 2012), Procedia-Social and Behavioral Sciences, 69, 1093-1101.
Valovicova, L., Trnikova, J., Sollarova, E., Katrusin, B. (2020). Stimulation and Development of Intellectual Abilities in Preschool-Age Children. Education Sciences, 10 (43), 1-11.
Williford, A. P., Whittaker, J. E. V., Vitiello, V. E., Downer, J. T. (2013). Children's Engagement Within the Preschool Classroom and Their Development of Self-Regulation. Early Education and Development, 24, 162-187.
Yavuzer, H. (2008). Doğum Öncesinden Ergenlik Sonuna Çocuk Psikolojisi. İstanbul: Remzi Kitapevi.
Yusof, M. F., Halim, H. (2014). Understanding Teacher Communication Skills. The International Conference on Communication and Media 2014 (i-COME'14), Procedia-Social and Behavioral Sciences, 155, 471-476.
Yüksel, H. A. (2008). İletişimin Tanımı ve Temel Bileşenleri. U. Demiray (Der.), Etkili İletişim (ss. 1-43). Ankara: Pegem Akademi.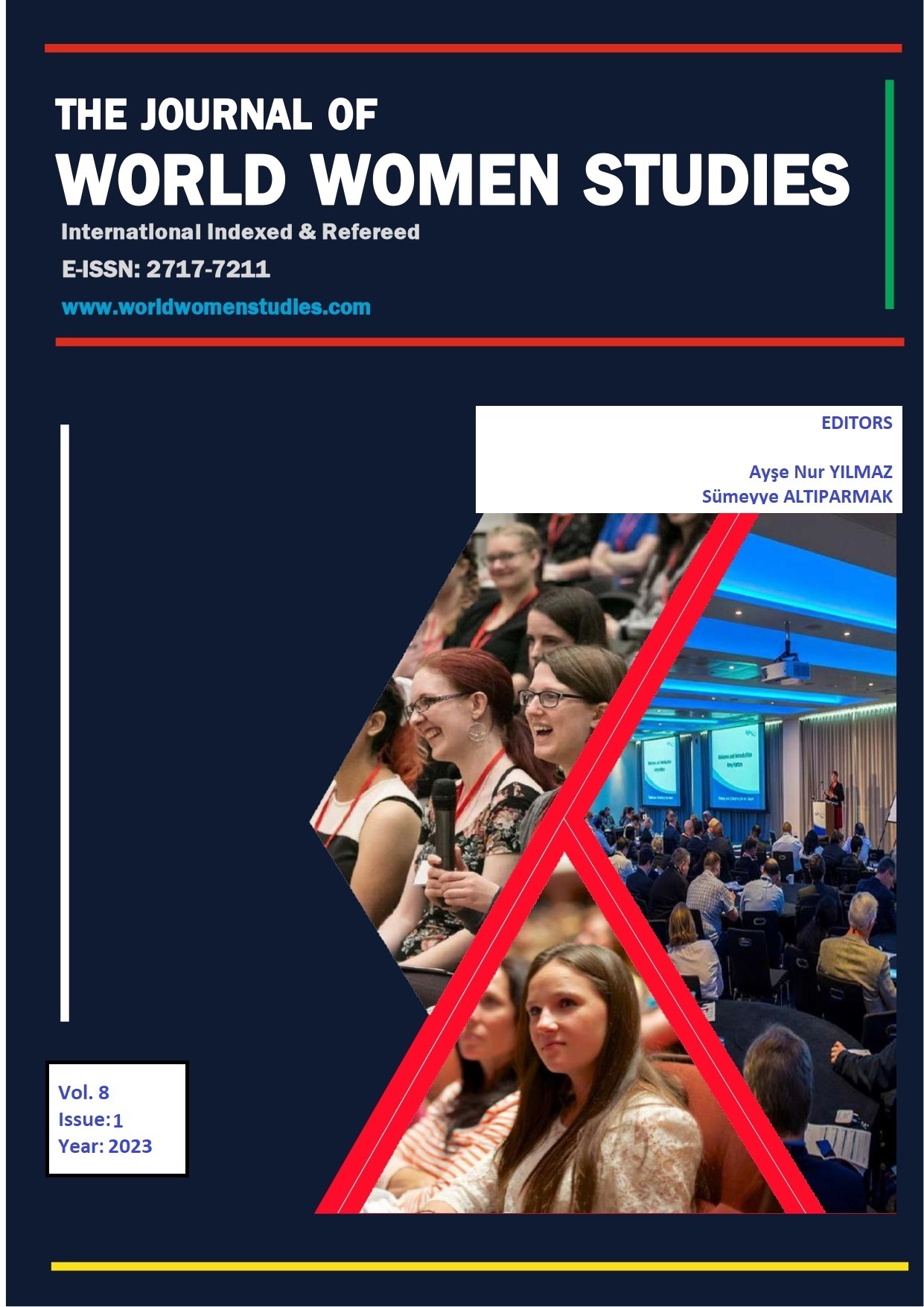 Downloads
How to Cite
YURGİDEN, H., & YURGİDEN, F. (2023). The Role of Healthy and Effective Communication Skills in the Development of Pre-School Children. WORLD WOMEN STUDIES JOURNAL, 8(1), 09–16. https://doi.org/10.5281/zenodo.8151029
License
Copyright (c) 2023 WORLD WOMEN STUDIES JOURNAL
This work is licensed under a Creative Commons Attribution-NonCommercial-NoDerivatives 4.0 International License.