The Effect of Childbirth Preparation and Support Classes on Learning Expectations of Midwifery Students
Keywords:
Childbirth Preparation Class, Health Education, Midwifery Education, Pregnant School, Support Classes
Abstract
Aim: Health education; It includes the process of having combined knowledge that requires theoretical, technical and clinical knowledge and skills. Birth preparation and support classes are also an important bridge between student learning in the classroom and clinical experience. In this study, it was aimed to reveal whether the education given in practical classes meets the learning expectations of midwifery students.
Material and Methods: The study was conducted cross-sectionally with 108 midwifery students. Data were collected through a face-to-face questionnaire. The obtained data were analyzed using SPSS 25.0 statistical program.
Results: The mean age of the students participating in the study was 21.7±2.45 (min:19-max:35). 63.9% of the participants are studying in the 3rd grade in the midwifery department. A statistically significant difference was found in terms of the situation of students having the opportunity to apply the knowledge they had previously received about preparation for childbirth before the education and the situation of finding their previous practices related to birth preparation sufficient (p=0.000). Expectations of midwifery students regarding preparation for childbirth education; education is interactive, transculturally oriented and applicable. 95.4% of the students stated that the pregnant school opened in the faculty met their expectations about childbirth preparation education.
Conclusion: It has been observed that the interactive implementation of the subjects that include application in birth preparation and support classes and midwifery education in the laboratory environment, the preference of the students outside the classical classes, their attendance and taking an active role in the lesson have increased. At the same time, it was observed that the students who had the opportunity to practice the course were willing to apply the knowledge they learned in the clinical environment, and their communication with the mentor midwives, nurses and women who came to receive service in the clinic improved positively.
References
Aslantekin, Ö.F., Ergün S., Palas, K.P., Karadaş, A., Kaynak, S., Çalışkan, T. (2021). Sağlık bilimleri fakültesi öğrencilerinin simülasyon eğitimine ilişkin bilgi düzeyleri ve farkındalıkları. Online Türk Sağlık Bilimleri Dergisi. 6(4):583-590.
Atasay B., Arslan S. (2001). Barselona anne ve yenidoğan hakları barselona deklerasyonu. STED; 10(12):457-459
Bolatlı, G. (2021). Hemşirelik bölümü öğrencilerinin anatomi dersi hakkındaki düşünceler. STED. 30(4): 238-44.
Bülez, A., Turfan, E. Ç., Soğukpınar, N. (2018). Evaluation of the effect of hypnobirthing education during antenatal period on fear of childbirth. The European Research Journal. 5(2): 350-354.
Büyüköztürk Karul, A., Özsunar, Y., Taşpınar, A., Öner, H., Yıldırım, B., Başaloğlu, H. ve ark. (2022). Sağlık bilimleri lisans eğitiminde anatomi dersi kapsamında anatomik maketlerin kullanımının öğrencilerin akademik başarıları üzerine etkisi. Adnan Menderes Üniversitesi Sağlık Bilimleri Fakültesi Dergisi.6 (2): 303-309.
Darnley, C., Rhodes, C., Roberts, P., Williams, P. (2018). Team based learning in nursing and midwifery higher education; a systematic review of the evidence for change. Nurse Education Today. 60:75-83. https://doi.org/10.1016/j.nedt.2017.09.012
Dinç, H., Yazici, S., Yilmaz, T., Günaydin, S. (2014). Gebe eğitimi. Sağlık Bilimleri ve Meslekleri Dergisi. 1(1):68-76.
Dow, A. (2008). Clinical simulation: a new approach to midwifery education. British Journal of Midwifery.16(2): 94-98.
Esencan, T. Y., Yıldırım, A. D., Daştan, K., & Güder, A. (2022). Normal ve riskli doğum simülasyon uygulamalarının ebelik öğrencilerinin memnuniyeti ve kendine güvenlerine etkisinin değerlendirilmesi. İnönü Üniversitesi Sağlık Hizmetleri Meslek Yüksek Okulu Dergisi.10(3): 903-917.
International Confederation of Midwives (ICM). (2013). Global standards for midwifery education 2013. https://www.internationalmidwives.org/assets/files/general-files/2018/04/icm-standards-guidelines_ammended2013.pdf
Işık, C., Küğcümen, G. (2021). Pandemi sürecinde klinik uygulamadaki ebelik öğrencilerinin kaygı düzeyleri ile akademik motivasyonları arasındaki ilişkinin incelenmesi. Medical Sciences. 16(2): 132-140.
Kadayıfçı, O. (2005). Lamaze yöntemi ile doğuma hazırlık ve doğum (Edit). Nobel Tıp Kitabevi, Adana. 5- 87.
Luyben, A., Fleming, V. and Vermeulen, J. (2020). Midwifery education in COVID-19-time: Challenges and opportunities. Midwifery. 89: 102776.
Mezuniyet Öncesi Ebelik Ulusal Çekirdek Eğitim Programı (EUÇEP). (2016). Öğretim yöntem ve teknikleri. 42-43. https://www.yok.gov.tr/Documents/Kurumsal/egitim_ogretim_dairesi/Ulusal-cekirdek-egitimi-programlari/ebelik.pdf
T.C. Sağlık Bakanlığı Kamu Hastaneleri Genel Müdürlüğü (KHGM) (2019). Sağlık Bakım, Hasta Hizmetleri ve Eğitim Dairesi Başkanlığı. Gebe Okulu Genelgesi Yayınlandı. https://shgmsmdb.saglik.gov.tr/Eklenti/27398/0/usul-ve-esaslarpdf.pdf
Tandoğan, Ö., Küğcümen, G., ve Satılmış, İ. G. (2020). Ebelik öğrencilerinin doğumda lamaze felsefesi hakkında bilgi ve görüşleri. Kadın Sağlığı Hemşireliği Dergisi, 6(1): 1-13.
Türkiye Nüfus ve Sağlık Araştırması (TNSA). (2013). Hacettepe Üniversitesi Nüfus Etütleri Enstitüsü, T.C. Kalkınma Bakanlığı ve TÜBİTAK, Ankara, Türkiye. http://www.sck.gov.tr/wp-content/uploads/2020/02/Turkiye-Nufus-ve-Sa%C4%9Flik-Arastirmasi-2013.pdf
Türkiye Nüfus ve Sağlık Araştırması (TNSA). (2018). Hacettepe Üniversitesi Nüfus Etütleri Enstitüsü, T.C. Kalkınma Bakanlığı ve TÜBİTAK, Ankara, Türkiye. TNSA2018_ana_Rapor.pdf (sck.gov.tr)
World Health Organization (WHO). (2003). Promoting effective perinatal care 2002. Essential Antenatal, Perinatal and Postpartum Care Training modules. http://www.euro.who.int/document/e79235.pdf
Wu, P., Hwang, L., Su, Y. M. A. (2012). Context-aware mobile learning system for supporting cognitive apprenticeships in nursing skills training. International Forum of Educational Technology & Society. 15: 223-36.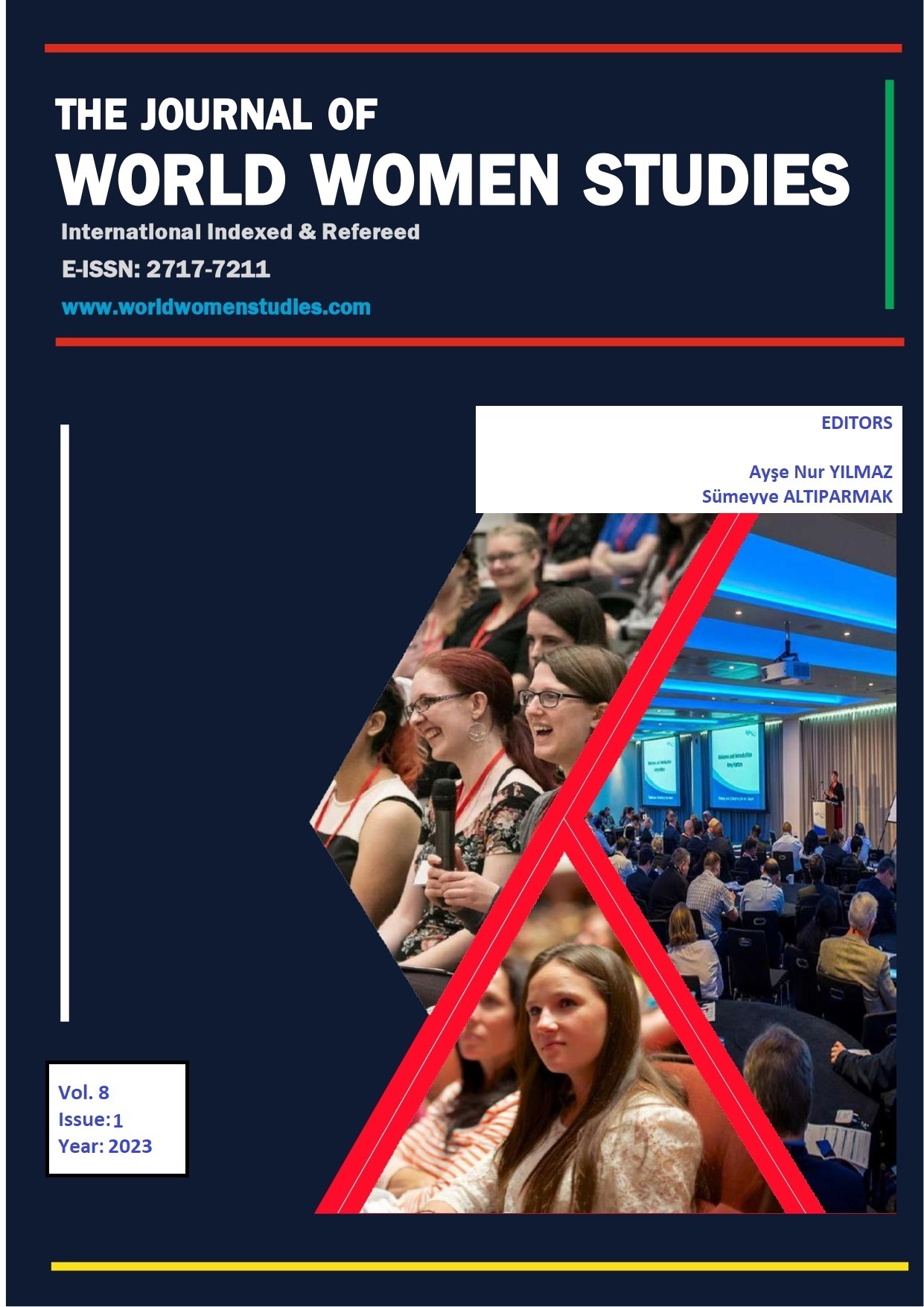 Downloads
How to Cite
BÜLEZ, A., TOKER, E. ., & TUNCEL BERTAŞ, D. (2023). The Effect of Childbirth Preparation and Support Classes on Learning Expectations of Midwifery Students. WORLD WOMEN STUDIES JOURNAL, 8(1), 01–08. https://doi.org/10.5281/zenodo.7788696
License
Copyright (c) 2023 WORLD WOMEN STUDIES JOURNAL
This work is licensed under a Creative Commons Attribution-NonCommercial-NoDerivatives 4.0 International License.